The right program for our Cowboys and adventurers. Eight days and seven nights of which only the first two and the last one we slumber at Green Valley Ranch.


Day 1
Arrival at the Green Valley Ranch and relaxation from the travel stress over a cool drink. The rest of the day is free. Evening, if the weather permits, we grill at the crackling campfire.



Day 2
Following a pleasant breakfast we of course go to the horses. Everyone is assigned their horse and after preparation we ride out. We depart for about a 2 hour ride to get acquainted with the horse. At the end there is a lot of time left for relaxation and to gather up strength for "Hike Ride".


Day 3 - 7
Bright and early we ride out on our five day Hike Ride. Our trail leads through endless meadows, deep woods, and diverse countryside. We get down from the horse time to time in order to stretch our limbs. It is possible that we will ford a river in our travels, which can be exciting not only for the riders, but also the horses.

We enjoy a gallop and quickly forget our work stress. Around noon time, we prepare a corral for horses and sit down to start grilling to a good meal. Through jagged terrain we start of to our first destination of accommodation. After caring for the horses and rich dinner we elaborate the experienced adventures over exquisite drinks. Next morning we move on.
Real adventures. To rest each night at a pre-selected pub, gather new strength. At the end of the fifth day we head back to Green Valley Ranch. Just take the saddle off, care for the horse and hurry up on to the campfire. There is much to talk about late into the night. According to our tradition, the last round is drunk on our tab.


Day 8
Unfortunately the adventure is at an end, but upon leaving our ranch you'll be just like a cowboy and will never forget this experience. Adios Cowboy!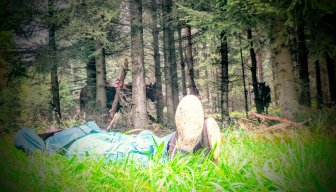 ---
Program includes 8 days, 7 nights in various taverns/pensions in 1-3 bed rooms with a shower and a WC with half board.
Our Cowboys get to spend  6 days in the saddle, that′s about  30 hours.
€  760.-
with own horse (including board and accompanying rider)
€  580.-