The Green Valley Ranch lies in the hills near the town of Rožmberk nad Vltavou. Rožmberk can be found nearby the state line between the border crossings Studánky and Dolní Dvoøištì. The route from the town to the ranch is marked by signs "Dvùr Metlice" and it is 3 km long in total.
Follow this mark: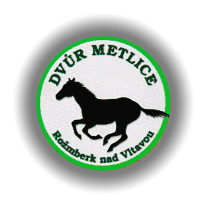 So riders, pack your things and start of to your dream! Experience an unforgettable vacation on our ranch horses and enjoy the serenity of nature. Simply for adventure. To leave the everyday stress at home and to properly switch off at the Green Valley Ranch.

Our team is looking forward to your visit!
Phone:  +420 602 461 305
E-mail:  janlikler@wanderreiten.cz


Green Valley Ranch (Dvůr Metlice)
Jan Likler
Rožmberk nad Vltavou
CZ 382 18
GPS: 48°40´19"N, 14°22´06" E