The approach to the Green Valley Ranch is very well marked by signs, but for many it is still a small adventure. Go uphill from the town of Rožmberk, through the turns in the woods, than over some flat ground and again through a few turns upwards …and for real … there in front of you, in the valley of the Vltava River, lays the Green Valley Ranch.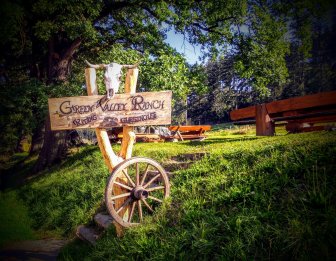 Ranch spanning over an area of 170 ha has been raised in the marvelous, almost virgin wilderness and romantic countryside. Deep woods and extensive meadows unwittingly awaken the feeling of freedom, serenity as well as adventure.

The Ranch is essentially made up of box stalls for 23 horses with the adjacent sand arena surrounded by the extensive pastures and pension with a pub and a large terrace, where you can enjoy your relaxation after a hard ride. We offer single and double bed rooms for accommodations + suites with the extra bed option. Rooms are stylish and each includes a toilet, sink and a shower.
Breakfasts are served, according to the weather, indoor or outdoor on the terrace in the form of a buffet with fresh bread, home made honey, various spreads, salamis and cheeses.
Warm dinners usually take place in the friendly atmosphere of a crackling campfire, where we grill and cook according to the Cowboy tradition and where the experiences from day that has just passed are often being discussed late into the night.
Currently our herd is made up of 23 horses, mostly Quarter horse.
There is also a decent size herd of Simental cattle which is a part of the Ranch, during the season they number a total of 130 including calves, which adds a real Cowboy. feeling to our guests. If the time comes to drive the herd to new pastures, it means "mount up riders!"