Day 1
The arrival at the Green Valley Ranch, quickly forget the stress and the trip within the local nature's idyllic atmosphere and just relax. We meet at a formidable dinner and discuss the preparations for the next day.


Day 2
Following a laid back breakfast we of course go to the horses. Everyone is assigned their horse, saddle them and mount up! We depart for about a 2 hour ride to get acquainted with the horse. At the end there is a lot of time left for relaxation, for the next day the Star Ride begins.


Day 3 - 7

After hearing the rooster crow, it is time: Mount up! Something new every day, get to know the countryside each day from another angle and return back to the pleasant atmosphere of Green Valley Ranch each night. That's what "Star – Ride" is.

The right program for those riders who want to spend lot of time in the saddle, however, they wish to be at the ranch in the evenings. This means to daily put all the necessities in the saddle bags tie them up to the saddle and head out for about a 7 hour trip through the Šumava countryside.

After 2-3 hours we start a fire and enjoy the fresh roasted meat and drink. Than just lazily lay in the grass the cowboy way just like on the prairie, saddle under the head, hat in the brow and relax. Getting up is hard, however home is calling and we head back to the ranch. A cowboy romance at the fire awaits us, along with a juicy steak with a cold beer and a Whisky for the tough boys and girls. An adventure from the day just passed is being recounted at the sun set.

Allow yourself to be surprised where the new day will lead us, each day to a new goal


Day 8
Our "Star" has come to the end. Riders, following a pleasant breakfast, pull down the tents. Parting is hard, but everyone can come back at any time.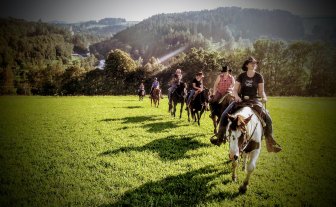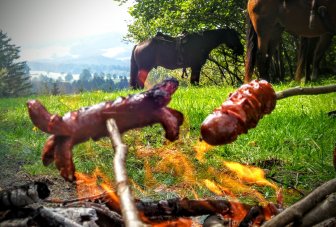 ---
Our Star gives the opportunity to get to know the surroundings of the Green Valley Ranch an to experience adventures.
The center  point of the ″star″ is the Green Valley Ranch. Program includes 8 days, 7 nights at the Green Valley Ranch in 1-2 bed rooms with a shower and a WC with half board (breakfast + dinner). Our Cowboys get to spend  6 days in the saddle, that′s about  30 hours.
€  600.-
with own horse (including board and accompanying rider)
€  460.-